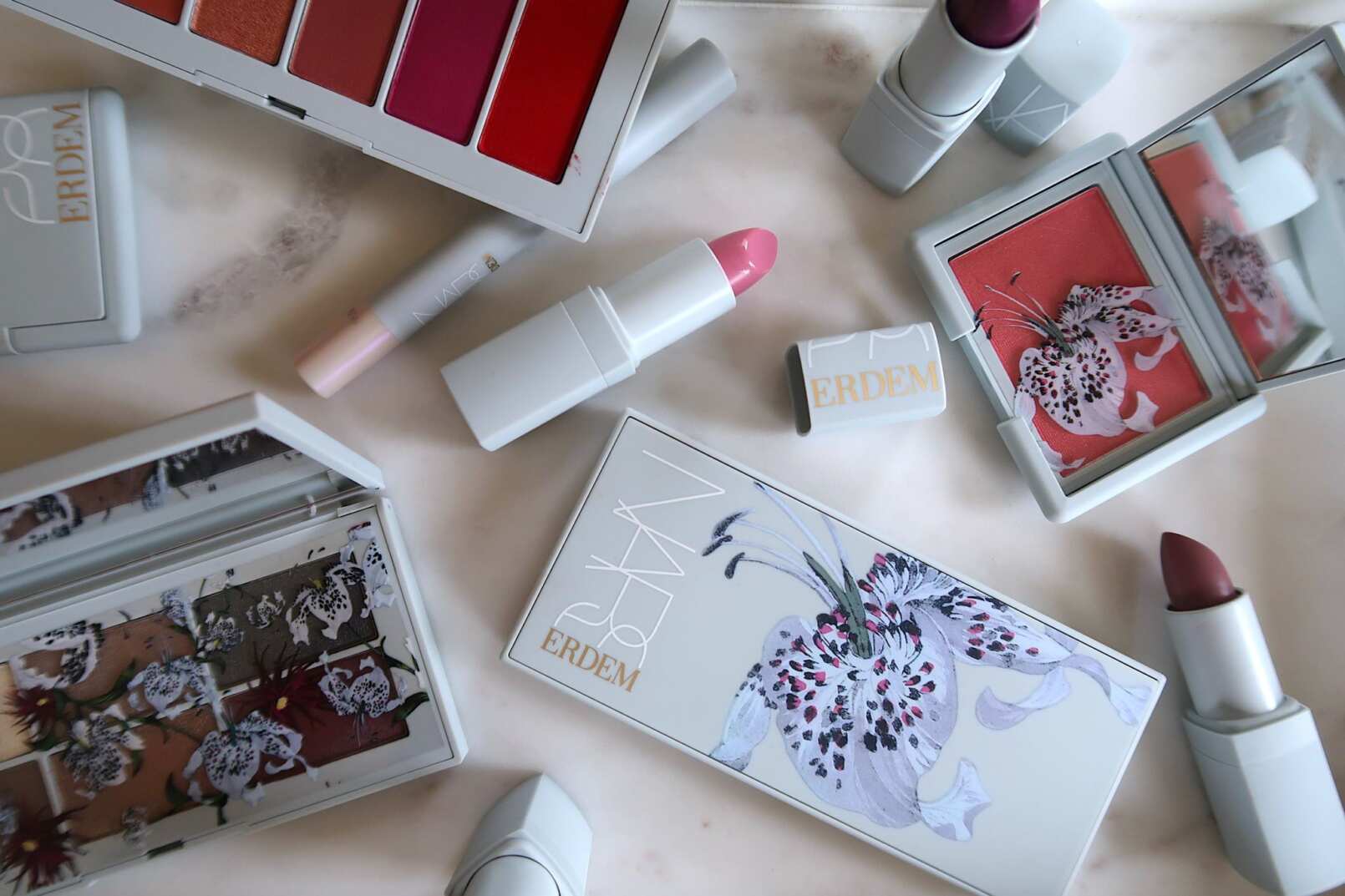 After almost nine years of blogging, I have to admit it does take something really rather special to get me overexcited for a new seasonal collection… but that is exactly what the new NARS Erdem 'Strange Flowers' collection for Summer 2018 has managed to do. When this collection landed on my doorstep this weekend, I was completely mesmerised! Set aside the incredible music box send-out you might have seen all over social media… the collection itself is simply the most beautiful thing I've seen in a long time. From the exquisite outer packaging in pale, dusky blue with beautiful intricate floral illustrations, to the unusual but surprisingly wearable selection of shades and impressive formulations – this collection is without a doubt one of the best of 2018 so far (and I'm sure it will take some beating not to be the most beautiful of the entire year!)
So what's in the collection, what's worth a look, and are there any must haves?
The collection consists of:
6 Lipsticks (Bloodflower, Moon Orchid, Larkspur, Voodoo Lily, Wildflower, Carnal Carnation) – £22 each
2 Eyeshadow Palettes (Fleur Fatale, Night Garden) – £35 each
1 Lip Palette (Poison Rose) – £35
2 Blushes (Loves Me, Loves Me Not) – £24 each
1 Universal Highlighting Pencil (White Phox) – £21
Blotting Powder – £15
The lipsticks on first impression are a bit 'out there' shade-wise but the finishes actually make them really wearable – you'll see what I mean from the pictures below. Lots of sheer, fresh and floral vibes going on and I like it. My pick of the bunch has to be Voodoo Lily – It's a sheer, glossy lilac, almost like a balm but something about it is just so beautiful. The finishing touches of gold on the signature rubberised NARS packaging are just gorgeous too. I really can't fault the packaging on this collection, which leads me on to the eyeshadow palettes…
The attention to detail on these palettes is second to none – the immaculate illustrations on the compacts continue onto the protective plastic film inside – not any functional benefit here of course, but it's oh-so beautiful. Out of the two palettes, one is really wearable (Fleur Fatale – great name… obviously!) and I'm sure will be an instant sell-out, while the other is definitely a little more 'out-there' (Night Garden) and not one that I would personally get a lot of use out of, It's not so much the addition of the bright yellow as much as the lack of one or two paler shades it needs to make it a daily-use palette. Regardless, the formulation of the shadows is lovely, they are buttery soft, bendable and highly pigmented. I can see Fleur Fatale easily becoming a daily staple in my makeup collection. It just has a beautiful balance of 4 day-to-day neutrals with two really interesting deeper tones for lining the eyes or darkening up a look. I'm a big fan.
As for the lip palette, well I'm kind of on the fence about this one if I'm honest… The concept of 'lip powders' is not entirely new, but they seem to be popping up everywhere this year, and I'm still yet to be entirely convinced. The palette comes with a really nice nude-coloured base balm (that you could totally wear alone) and four punchy, pigment powders that you can layer up over the top for a bold, matte lip. Cool in concept but not the most practical in my opinion. I have to say, I adore the nude/rose shade in there – it's stunning, and the bold red and pink are gorgeous too. Not really into the metal copper-y tone, but it would look great on the eyes! The jury's out on this one – what do you guys think… do you (or would you) use lip powders?
Moving on to another favourite, the two blushes are simply stunning and the names (Loves Me and Loves Me Not) are lovely too. Loves Me is a bright strawberry pink with subtle gold shimmer (think a very pink version of their iconic Orgasm blush)  while Loves Me Not is a super subtle pale pink (perhaps best for paler skin). As you would expect from NARS blushes, they are both beautifully pigmented and brilliant. Love both of these.
Last but not least is the Highlighting Pencil in White Phox. It's a beautiful iridescent white-lilac shade and is beautifully creamy and bendable. I think this would look so pretty on the eyes but I'm not sure if I would personally use it elsewhere. It's not the most wearable shade but it's definitely beautiful!
There are also mattifying blotting sheets in the collection, but I don't actually have those to show you sadly (actually quite a shame as I love blotting sheets!) I might have to pick some up when the collection hits shops… which in case you're wondering is on the 15th April in Selfridges (here!) and nationwide in May.
What do you guys think? Are you as blown away as dI am by this collection? Any in particular catch your eye?