So it's that time of year again! Well, actually… I know what you're thinking… it's not even nearly Christmas, but it is that time of year when all the beauty advent calendars hit the shops. A little early in my opinion, but nonetheless, exciting! As you may know, every year I make a 'Top 10' video over on my YouTube channel talking about my top picks (you can check that out down at the bottom of this page) but, I also wanted to do a full rundown of each calendar I've heard about this year, including showing you the exact contents (*SPOILER ALERT* if you're bothered about that!) reviewing the packaging, value for money and overall score out of 10. I've divided this up into three different categories, each of which will be different blog posts: 'Ultimate Luxury Calendars' (Over £150), 'Medium Treats' (£50-£150) and this one 'Affordable Options' (Under £50).
So in this post I'm going to be talking about the affordable options. I have to say though… the 'affordable' end of things this year seems a little more limited than last year, but there are still quite a few different (and awesome) options for under £50. Starting off with my favourite, and coincidentally one of the most affordable…
The M&S Beauty Advent Calendar
Price: £35 (with £35 spend on home and/or clothing purchases)
Availability: Available from 9th November, HERE
Packaging: The one downside to this calendar in my opinion. It's not the most practical design, and nowhere near as good as their calendar was last year.
Contents: Highlights for me include a Shay & Blue purse spray, Alpha H Liquid Gold Rose, Emma Hardie Cleansing Balm and M&S Formula Ultimate Sleep Cream (and M&S own-brand product, but it's amazing!)
Value for Money: Brilliant!
Overall Score: 9.5 / 10
Benefit's SF Winter Wonderland Calendar
Price: £34.50
Availability: Available Now HERE
Packaging: This is a tiny calendar, and the quality is similar to a standard chocolate calendar. It's also only a 12 day calendar and I would have liked to see them mix up the design a bit more – it's very, very similar to their 2016 calendar.
Contents: Mini versions of most of my Benefit faves, including They'reReal Mascara, Hoola and possibly the cutest, teeny-tiny version of Gimme Brow.
Value for Money: Pretty good (£76 value for £34.50) It comes in as the cheapest calendar of them all, but it is also only 12 days so if you want the full advent experience, this one won't be for you.
Overall Score: 5/10
L'Occitane's Classic Edition Advent Calendar
Price: £49
Availability: Available Now HERE
Packaging: Very traditional, French-style illustrated packaging.
Contents: Very body-care heavy. If you travel a lot and love miniature soaps, shower gels, body lotions and hand creams, this will be really useful. I personally would have like to have seen a little more variation in the contents. L'Occitane have also don't a 'luxury' version which comes into the next price bracket (over £50) which includes more of their skincare and fragrances if that's what you're after.
Value for Money: Pretty good (£87 value for £49)
Overall Score: 5.5/10
essie Advent Calendar
Price: £50
Availability: Available Now HERE
Packaging: Cute, very traditional. I love the big illustrated red bow on the front, but I do think the inside design could have been a little more 'wow'!
Contents: 7 full size polishes, 13 minis, remover, a glass file, buffer and toe separator. Really good and varied for a nail-only calendar. The shade selection could have been a little more 'wow', but if you're into your classic, staple shades, this selection is great – a good mix of nudes, reds and a couple of more sparkly options for the festive season. As per usual, the essie mini polishes also have the brilliant wide brushes, so they are as good as the full sizes when it comes to application.
Value for Money: Pretty good!
Overall Score: 6/10
Ciate Mini Mani Month
Price: £50
Availability: Available Now HERE
Packaging: Nice, modern graphic design. The inner packaging is made up of boxes rather than windows, so it stays looking perfect even when you've opened them all (if you're bothered about that!)
Contents: Ciate were one of the first (if not the first?!) brands to do a beauty advent calendar. I remember buying the first version and thinking it was the best thing since sliced bread. Since then, they haven't really changed much BUT I have to say, this years version is really brilliant. The shade selection is awesome (there isn't one colour I wouldn't wear) and their previous over-enthusiasm with glitters and toppers seems to have disappeared and there's a great selection of different shades, topcoats etc and a couple of glitters.
Value for Money: Pretty good.
Overall Score: 7.5/10
Ciate '12 Days of Ciate' Calendar
Price: £50
Availability: Available Now HERE
Packaging: Very similar to the Mini Mani Month, but one-sided as there are only 12 doors. Really pretty design.
Contents: A nice selection of products, and great shades. I was however really disappointed to see loose-pan eyeshadows and a highlighter in there without a magnetic palette to put them in. You do get a good amount of product for your money, but for me… the way these are packaged means I probably wouldn't use them. The eyeliners and mini lip creams are my highlights from the lineup.
Value for Money: Not great, especially when compared to the Mini Mani Month, and some of the other makeup options available.
Overall Score: 4.5/10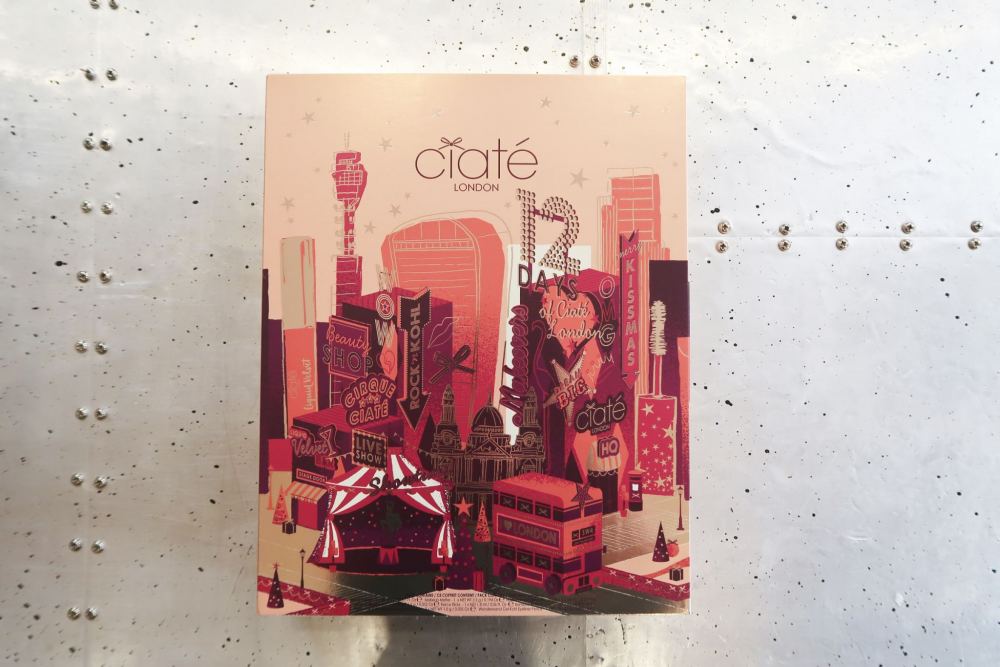 Soap & Glory 'It's a Calendar, Girls' 24 Days of Soaprise
Price: £40
Availability: Available Now HERE
Packaging: Super cute and girly, as you would expect from Soap & Glory. Also pretty big and substantially-made considering the price point, and I personally love the design.
Contents: There are definitely 6 'filler' products in the form of the little blister-pack stars with shower gels etc in them BUT this is a 24 day calendar, and there are a lot of other very well-sized products in here to balance that out. My personal highlights are the full-size mascara (which is awesome), hand food hand cream, mini righteous butter (one of my faves) and the 5 (yes, 5!) mini eyeliners! The mini tweezers are also a nice addition
Value for Money: Great! I think there is such an awesome selection of products in here for £40. A good mix of body care and makeup and decent sizes too.
Overall Score: 7.5/10
If you want to check out the middle-ground options and the super luxury ones too, head over to my blog homepage here to see the other posts. To see which calendars made it into my ultimate Top 10… check out my full YouTube video here: