After the launch of the original Juicy Shakers last year, saying I was excited to try the new Matte Shakers from Lancome is definitely an understatement. I adored the texture, shades, scents and unique concept of the original Juicy Shakers, and was really intrigued to see how they would perform with a matte finish. They launched at the end of April in the UK and I've spent to past few weeks giving them a proper road test. Today I thought I would write up a full review for you all in case you're thinking of picking one up…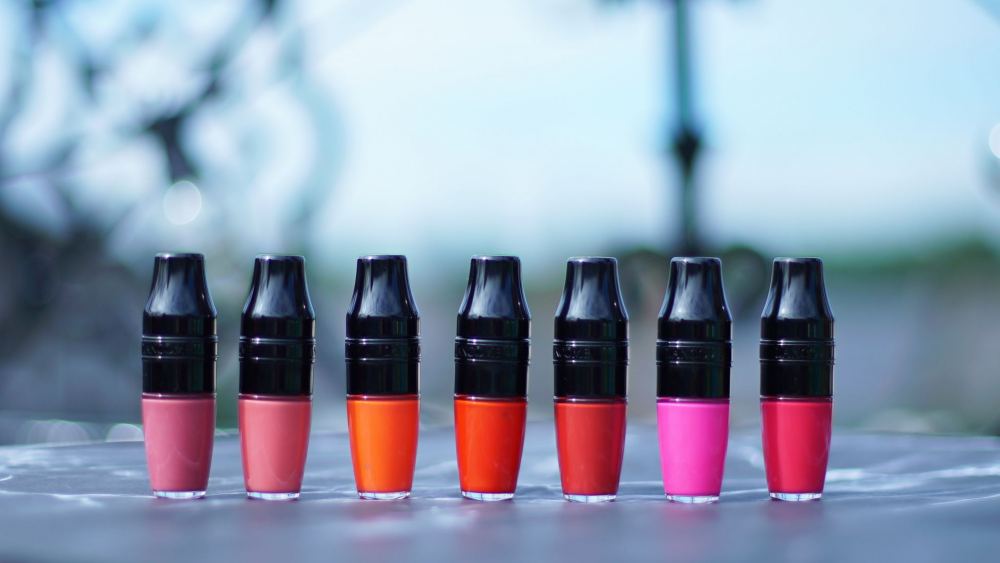 So firstly for the packaging. It's exactly the same as the Juicy Shakers mini cocktail-shaker shape, but with a shiny black cap (the originals are silver) I really like the black personally, I think it looks quite slick. The texture of the product is actually not too different to the Juicy Shakers either… they definitely have that same oily-base. However, you do need to shake these harder to get the product and the pigment fully mixed together (if you don't do this, the colour pay off is really sheer and doesn't pack much of a punch) especially the first time you use them – give them a really hard shake!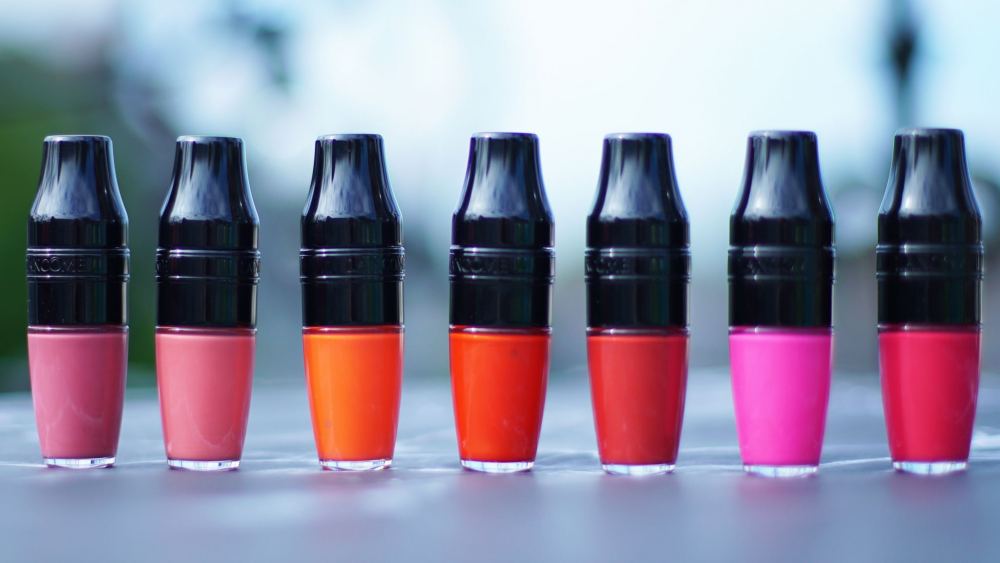 (From L-R- Beige Vintage, Energy Peach, Magic Orange, Red'y in 5, Kiss Me Cherie, Yummy Pink, Pink Power)
Once the pigment is mixed in, all of the shades come out very strongly, and layered up on the lips are a punchy opaque finish. They apply quite wet, and dry down to a matte finish over a couple of minutes. If you swatch these on counter quickly you'll probably be thinking "WHAT, these aren't matte?!", but give them some time… they do dry down! They are comfortable to wear and a lovely light-matte finish, nothing like the Anastasia Beverley Hills or Kat Von D level of matte here, but a slightly powdery, soft looking, comfortable matte. The oil in the formula helps to achieve this and keeps your lips from feeling dry at all.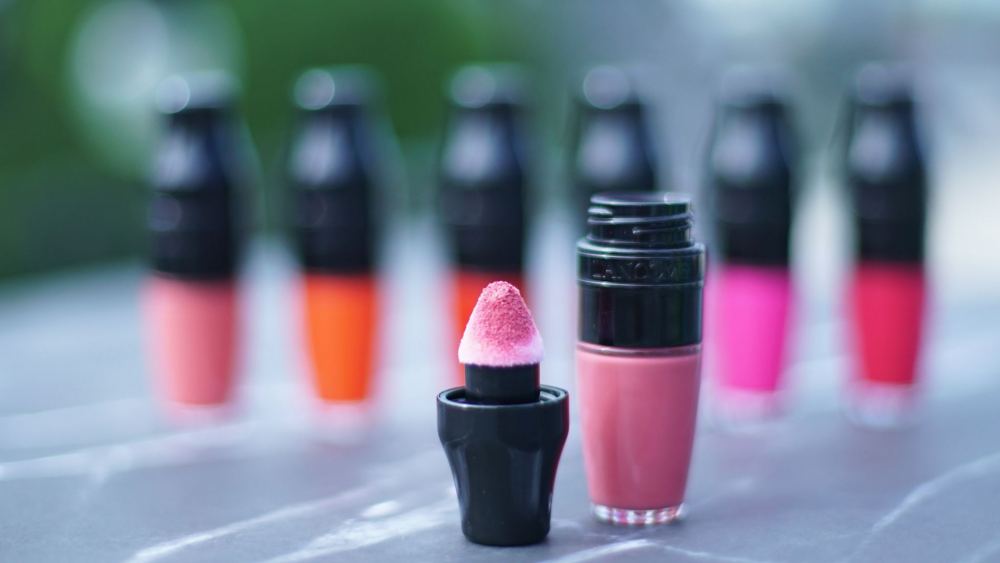 One thing I have noticed about the formula is that it really stains. I'm not talking about your usual level of stain for a lipstick either… Once I swatched these on my arm, I struggled to get them off for the next 24 hours and the effect is similar on the lips. This is definitely a love/hate element, as those of you who like stains for that very reason will probably love these, but if you aren't a fan of lip products that stain, definitely be wary of these… especially the brighter shades!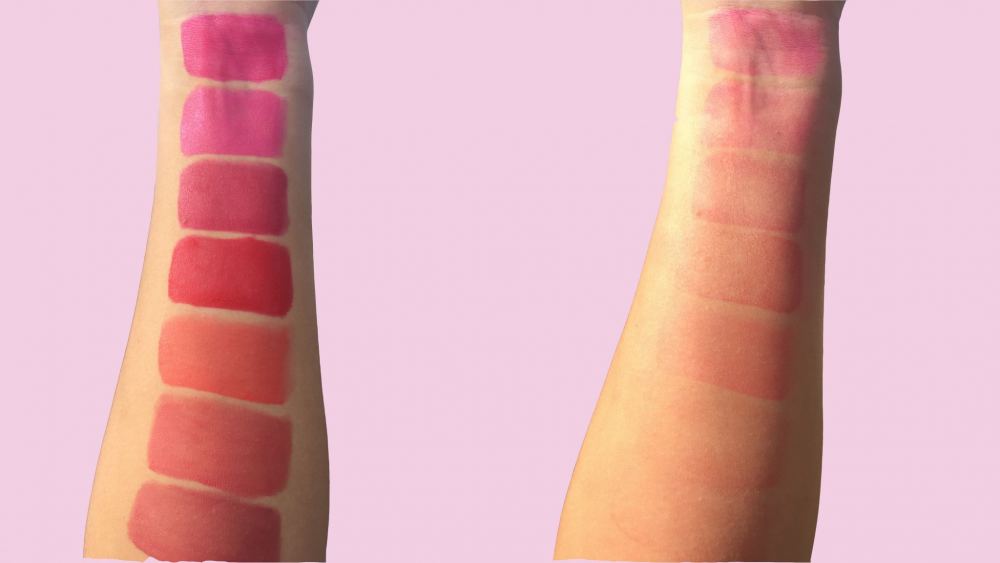 (From Bottom to Top: Beige Vintage, Energy Peach, Magic Orange, Red'y in 5, Kiss Me Cherie, Yummy Pink, Pink Power. On the left is a full swatch, on the right is the stain after removing the product with makeup remover)
Talking of shades… I think that's the one element that really lets the matte shakers down. There are only seven shades in total (in comparison to 15 for the Juicy Shakers) and on the whole, I don't love them. They look really promising in the tubes, but the shades translate quite differently onto the lips.
The nude shade (Energy Peach) is really lovely, but I'm not in love with any of the others really. The mid-rose tone (Beige Vintage) looked right up my street, but it has ever-so-slightly too much red in it when it's actually on the lips and therefore I feel like something about it makes me look older than I am for some reason… not good! The neon orange (Magic Orange) and neon pink (Yummy Pink) are just massive no-no's for me, though I think they would look incredible on darker skin tones, or if you love wearing neons (I don't).
The reds are nice (my fave is Kiss me Cherie, Red'y in 5 is too orange-toned for me) and the deep pink (Pink Power) looks perfect in the tube but comes out a little too bright for my liking… I definitely think these could have been so much better on the shade front. Fingers crossed they will add a few extra shades over the coming months, as they did with the Juicy Shakers… I'd love to see a deeper berry shade and a wider selection of nudes (especially a mauve-y one!) as I do really love the texture.
These are on Lancome counters now, £19.50 each. Would love to know if any of you have tried them too and what you think?