If you haven't already heard me raving about The Ordinary, they are the single best beauty brand I've discovered this year. Actually… make that the past few years… hell, they are pushing for all time actually. If you want a low-down of the brand, their parent company (Deciem) and their philosophy on all things skincare, check out the video I made about them a few months ago HERE (no, it's not sponsored) or read more about them on their website here.
In a nutshell… they are the brand making huge waves in the skincare industry at the moment for producing affordable products, with proven ingredients that actually work. No frills, no un-proven claims or fancy packaging (not that I don't love myself some fancy packaging every now and again…) Their 2% Advanced Retinoid Serum is hands down the best skincare product I've ever discovered, and it's LESS THAN A TENNER! Yep, £8 to be precise. If you're worried about anti-ageing and want smoother looking skin, RUN, don't walk, to their new store in Spitalfields and try it for yourself. I'm in love. Or, if you're not in London, you can also pick it up on their website, or via ASOS, HERE (hello next day delivery!)
Anyway… this blog post isn't actually about skincare, I just get a bit crazy when it comes to The Ordinary. You can imagine how excited I was when I heard they were launching foundation this month. Not just one either… they are launching TWO different formulas: the Coverage Foundation and the Serum Foundation. As the names suggest, one is more full coverage, the other lighter. They both come in 21 different shades (which are actually divided into 9 different depths, which each have different tone options for warm, cool or neutral skin tones) So they aren't starting small.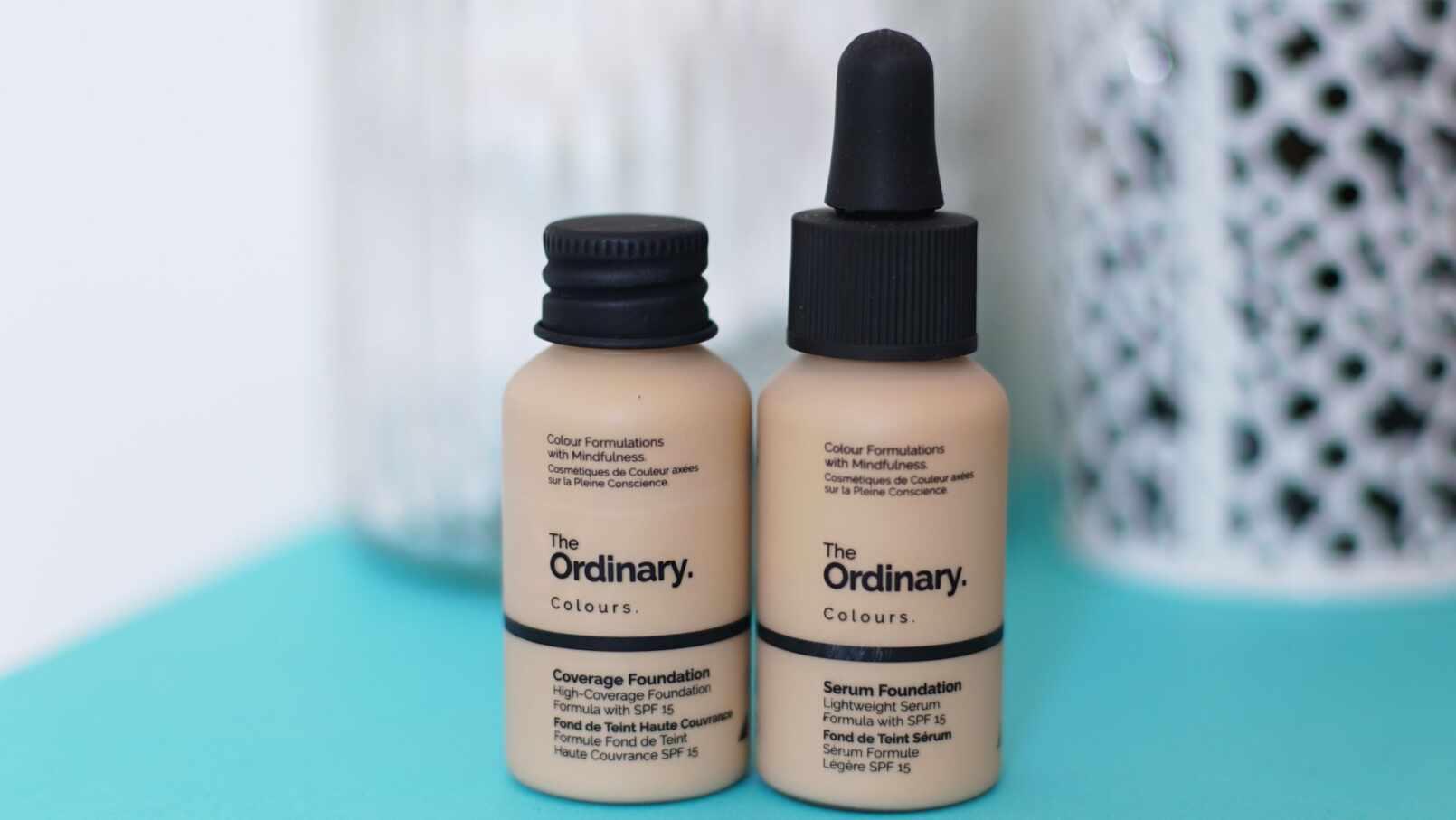 Both foundations come in dinky, plastic 30ml bottles. They aren't luxe, but still very cool-looking and extremely travel friendly. They both have non-chemical SPF 15 (Great.) What's even greater is the price… £5.90 for the Coverage and £5.70 for the Serum. Too good to be true? or to be any good?! Think again.
The Coverage Foundation is the one I road-tested first, as I tend to go for higher-coverage bases. I was absolutely blown away by this. The coverage is great. Not absolutely full-coverage, but a very solid medium that covers while looking incredibly natural on the skin. Not cakey at all. It lasted all day with a tiny touch of powder on my chin, nose and forehead, and a tiny touchup at lunchtime. Seriously impressed. (Note: The one being sold in stores and online will actually come with a pump too – my one is a sample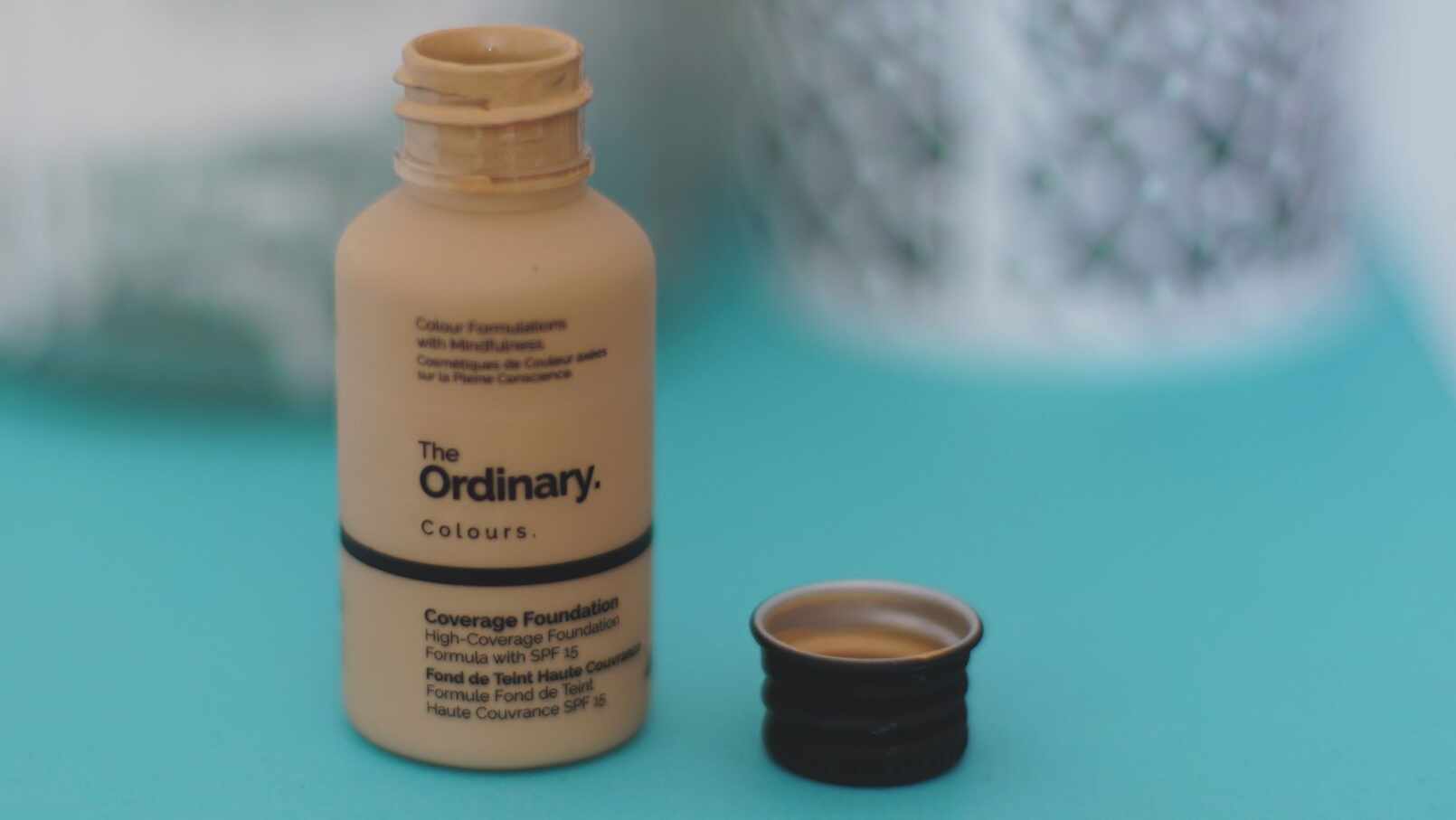 I tried the Serum Foundation the week after, and I have to say I actually really love this one too! More so than I was expecting! Yes, it's a lighter coverage with a more moisturising feel to it (to be very clear – the other one isn't drying at all) I definitely felt like I needed to powder a tiny bit more, but if you're after a dewy, lightweight looking base for the daytime this is nearly perfect. It actually has more coverage than I was expecting, considering the name. It's definitely light-to-medium coverage, considerably more than most tinted moisturisers or BB creams.
All in all… I can't fault either of these, the Coverage has secured a firm place in my everyday makeup bag and the Serum one is on my occasional-use rotation of products. They are out this week so you can pick them up now from the Deciem store or online here.