*Sponsored Content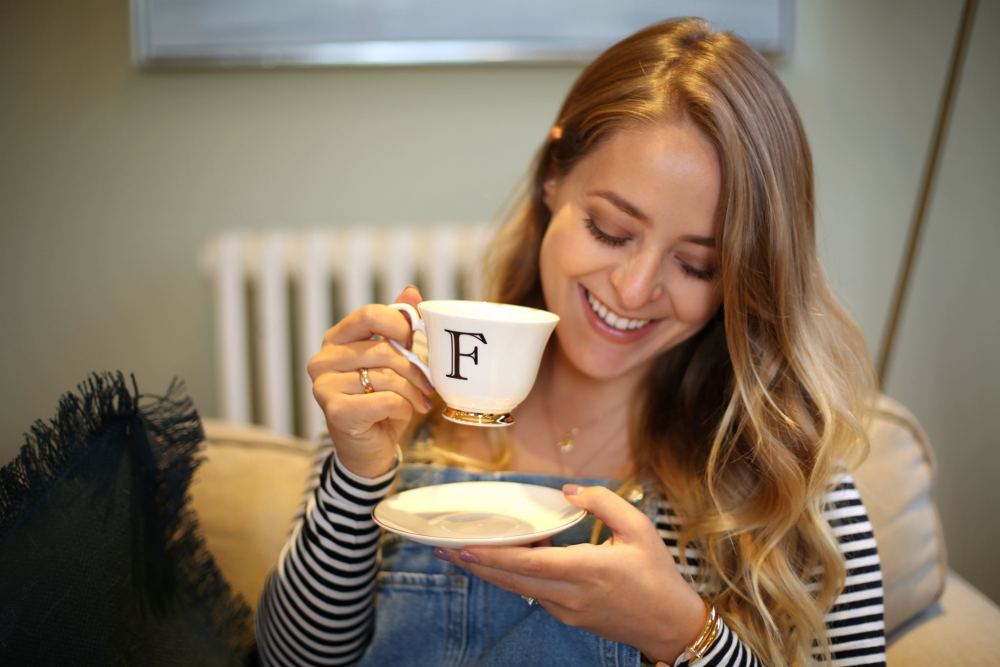 Today I wanted to do a post all about things that have made me happy this month. September is one of those funny months that just feel a little bit 'in-between'… summer is officially over, yet autumn (and all the things that make it wonderful) still isn't in full swing. I also feel a bit 'in-between' in myself. At almost six months pregnant, I am starting to feel properly 'pregnant' now (with a pretty big bump!) yet three months seems like ages, and Christmas (my due date is just after!) seems like a lifetime away!
So anyway, I wanted to share with you all some of my favourite things that have helped cheer me up and have made me extra happy this month. Firstly?! Tea!
Twinings Lemon Drizzle Green Tea & Chocolate Coconut Green Tea
This post is sponsored by the lovely people at Twinings. When they got in touch to ask me if I'd like to try their teas, my answer was naturally yes (Mike flat out refuses to have any other breakfast tea in the house except for their English Breakfast – it's his absolute favourite!) when I found out they were sending new flavours of green tea from their 'Indulgent Greens' range… I was even more excited (flavoured green teas are one of my favourite things) AND then I found out what the flavours actually were… Lemon Drizzle (yes, you read that right!) and Chocolate Coconut. Sound good?! Well, they taste even better than they sound. I honestly couldn't have imagined a green tea tasting like lemon drizzle cake before, but it really does and is utterly delicious!
Since being pregnant I've struggled quite a bit with having to cut down my caffeine intake from coffee, and more recently having lots of cravings for sugary treats… and both of these teas have been so good for combating both! Green tea naturally has a lot less caffeine than coffee so it's lighter on that front and they make for a lovely sweet treat without any sugar, and are still 100% natural, so I've been drinking these most days and trying to stick to more healthy options on the snack-front than real cake and chocolate! I think these are the perfect option for those of you who don't really like the taste of green tea, but like the idea of drinking it… all the benefits but without such a distinctive taste! And if you already love green tea like me… I'm sure you'll love these – so yummy!
Rose Gold Superga's & Maternity Dungarees
On the fashion front… two things that I've added to my wardrobe this month, but also that I have loved wearing (both literally put a smile on my face when I'm wearing them!) are my new rose gold Superga trainers and my maternity dungarees from Topshop. I've had my eye on some metallic trainers for a while, and am always in-between silver or rose gold and Supergas or Converse. I ended up buying these on our trip to Brighton at the beginning of the month when the sandals I was wearing were rubbing so badly, I just had to get them off my feet! I picked them up on sale for £30 too so was really happy with that, and have been wearing them loads ever since (although be warned – they do need quite a bit of breaking in before they become really comfy!)
As for the dungarees… I love these because they are one of the only things I can wear at the moment that don't fall down and because they make me feel like a little kid! I've never worn dungarees as an adult before but I've always thought they look super cute on pregnant women, so when I saw them I couldn't resist! They aren't the most flattering choice from behind (they make your bum look a little saggy!) but I love them for wearing at home, and just chilling out in.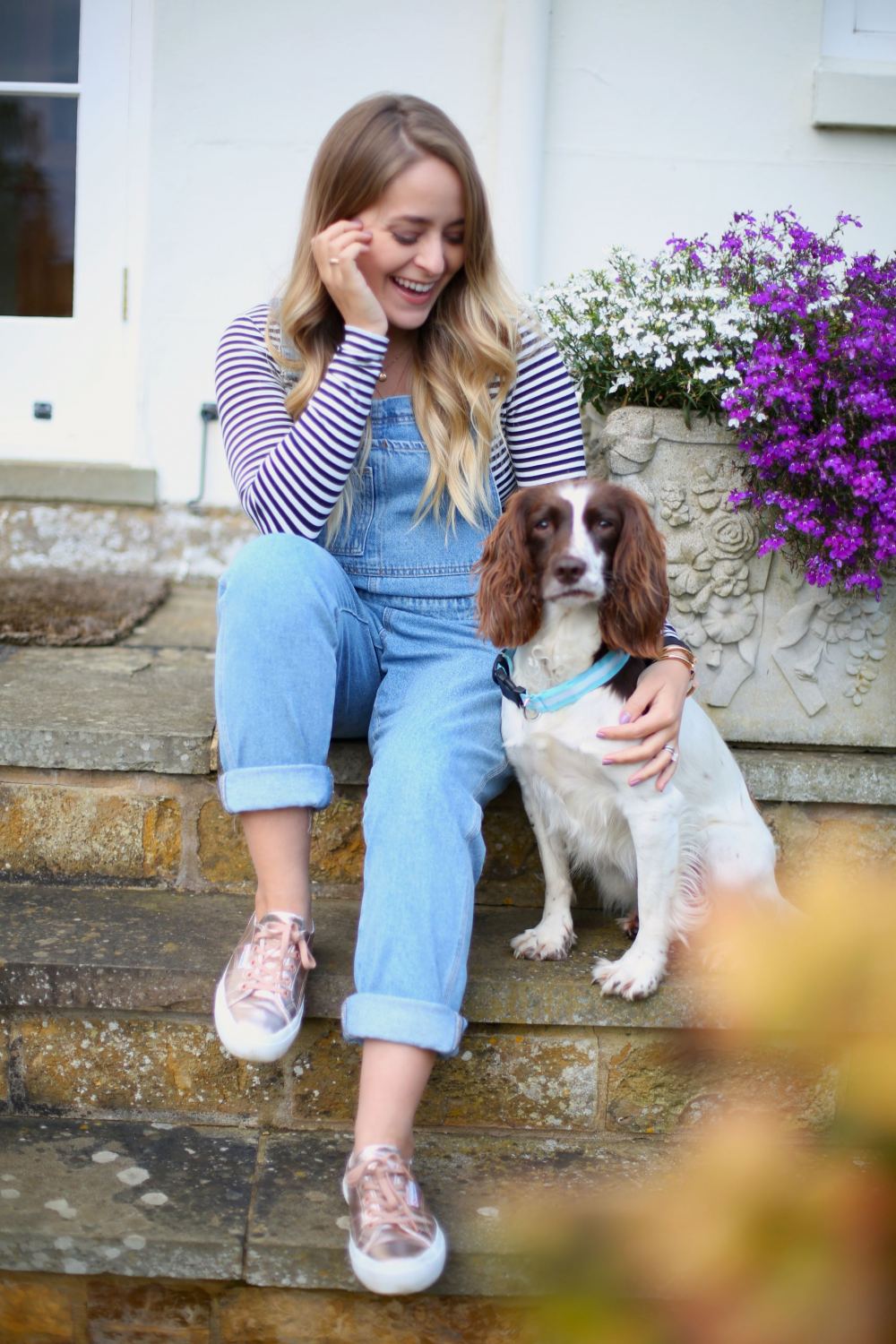 'Happy Mum, Happy Baby' Podcast
'Happy Mum, Happy Baby' is the new podcast from my fellow YouTuber, author and all-round lovely person Giovanna Fletcher. I've recently started listening to loads of mummy and parenting podcasts in the car on long journeys and Gi's is without a doubt my favourite one. She only launched it a few weeks ago, but I've loved all three of the episodes so far. It's really nice to hear different people's experiences and feelings about being a mum, especially as I'm preparing for the arrival of my first baby – trying to absorb all of the info I can whilst I can, and it's definitely helped me feel much less alone being one of the first girls in my group of close friends to have a baby.
Kesha's New Album
I've never been a massive Kesha fan, but her new Album 'Rainbow' came out last month and I've been loving it ever since. The first time I heard the title track, it became an instant favourite. Something about it, I can't quite put my finger on… but I had to listen to it three times on repeat I loved it that much. Whether or not you've been a fan of Kesha's music in the past, I would really recommend taking a listen to Rainbow.
Discovering a whole new side to YouTube
Since being pregnant, I've become utterly obsessed with watching mummy YouTubers – A whole side of YouTube I never really knew existed before (and certainly something I didn't think I would be that interested in watching!) But I've been watching so much mummy content… from daily family vlogs, to baby essentials videos and monthly updates. My favourite discovery is definitely Ash of 'Mama Reid Vlogs' – Ash is a mum of two from Scotland who has possibly the cutest children I've ever seen (both online and in real life!) She uploads loads of different content from mummy stuff, to beauty and fashion videos, hauls etc. She's just an absolute pleasure to watch and comes across as such a lovely, relatable person (I also just love listening to her accent!)
Yellow Flowers
It might sound kind of crazy, but I've been obsessed with yellow flowers this month. As you may have read in one of my previous blog posts this month, I've recently given my little sitting area in my kitchen a bit of an update (going for a Navy theme) and since then I've been putting yellow flowers on the coffee table and I love them. Whether it's sunflowers (my absolute favourite) or the (cheaper alternative!) potted yellow flowers I have there now… something about yellow flowers just adds a little sunshine in to the room and I've been loving it.
*This post is sponsored by Twinings. All opinions remain my own.