*Sponsored Post
For those of you who haven't already seen my new 'Real-Time Homeware Haul' on my Youtube channel, this week I collaborated with one of my favourite homeware shops, Homesense. In this post I wanted to share some before and after images of my kitchen-lounge area. This area of my kitchen is used daily by not only myself and mike, but also tends to be where our friends hang out when they come over, and where the dogs chill out a lot. It therefore sees a lot of action, and was in dire need of a little  refresh. Our kitchen itself is very neutral, and I wanted to introduce some colour to the room and just smarten up the area in general. Therefore the collaboration with Homesense couldn't have come at a better time…
If you don't already know about Homesense, it's part of the TK Maxx family and is a dedicated home store, so a little different to other interiors shops as you never know what you're going to find. There's always a great selection of unique pieces, and they are all great value for money (everything is up to 60% off the original RRP). I've shopped there for the majority of my home stuff since I moved into my first house with Mike over 8 years ago. Whether it's for basics like kitchen utensils, crockery, cutlery, bedsheets and duvets, or more substantial pieces like sofas, lamps, tables and chairs… the majority of these items in my home have come from Homesense. So, as you can imagine, I was really excited when they asked me to collaborate with them for this video.
Anyway… If you want to see me talk about the specific items I found, check out my video here:
But in this post, I wanted to show you some before and after images of the space and talk about why I chose everything…
BEFORE
BEFORE
So firstly, for the more substantial items. There was a big empty wall space behind one of the sofas that I wanted to fill, so I was really happy to find this big picture (£49.99) that goes perfectly with the existing decor, and blends in well with the new navy and metallic colour scheme I went for. The bronze floor lamp (£59.99) also helps to fill this space, and I think it will make a nice cosy corner for reading on winter afternoons. I'm going to get a retro-style light bulb to put in here as the bulb is very visible, but I'm really happy to have filled this space.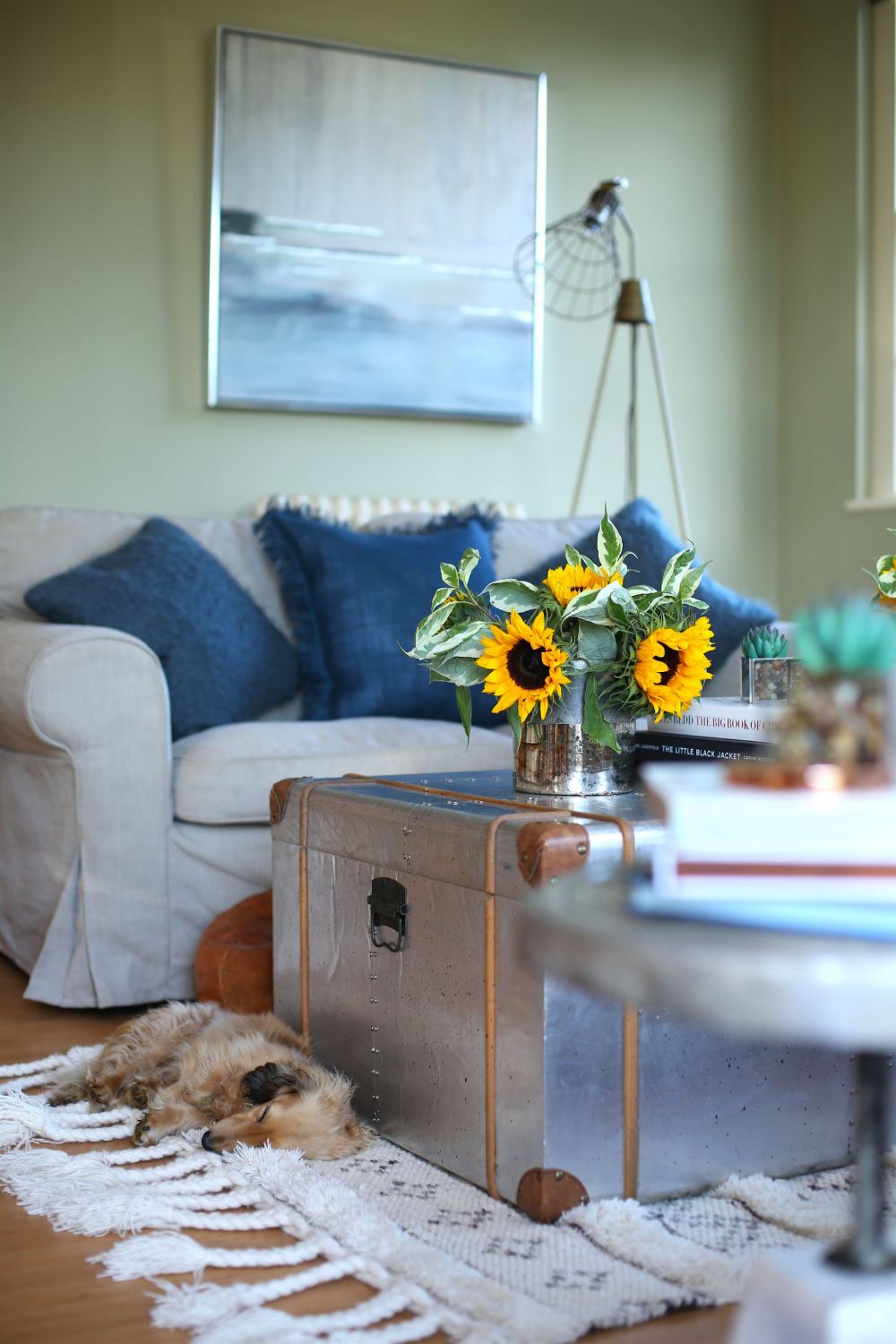 The cushions I got to go on the sofa are all navy, but I got a few different textures to add a bit of depth and I think these look great (these varied in price, from £12.99 to £15.99 but are all feather filled so great value). I kept the general layout the same with the two sofas and the coffee table/trunk (which was also from Homesense, 5 years ago!) but I wanted to make the space a little more polished and cosy, so I decided to replace the old rug (which was really dirty and tired-looking)  I was so happy to find this woven one with plaited tassels (£89.99). It's a little smaller than the one that was there previously but I think it works better for the space, and I love the different textures of the rug too (Piglet also seems to be a huge fan of this as you can tell!)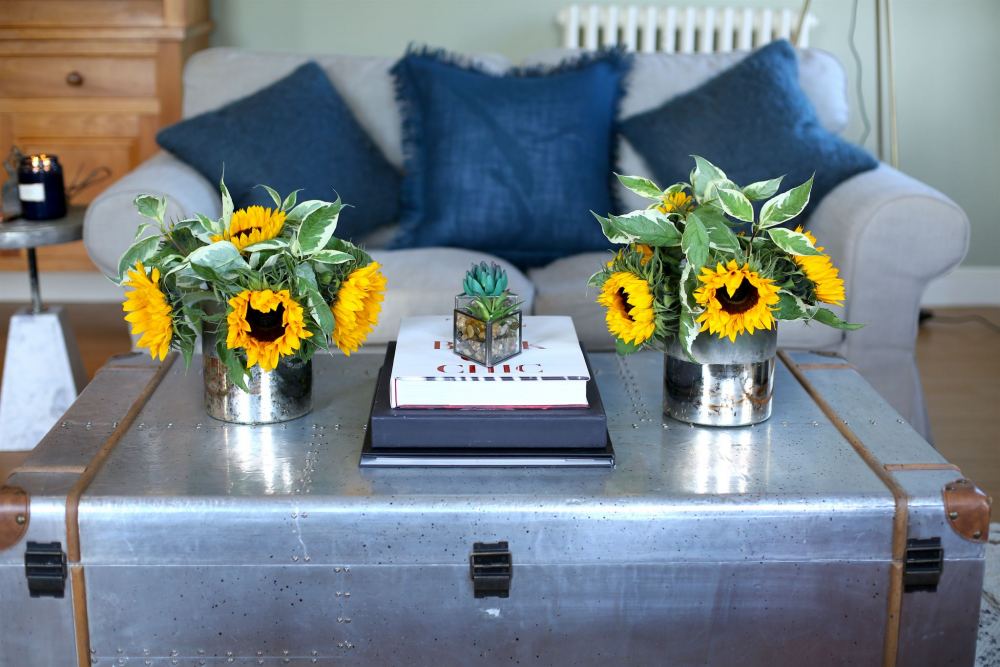 I tidied up the coffee table area by cleaning and re-arranging my current coffee-table books, and adding these gorgeous silver vases (which could equally be used for flowers or candles, but at the moment they have freshsunflowers in them and some foliage from my garden but I think long-term I may get some fake flowers so I don't have to replace them all the time) I love the sunflowers in here. I think the yellow works really well with the Navy theme. I also got some fake succulents in miniature terrarium-style vases for only £3.99 each both to fit on the coffee table, and the side tables.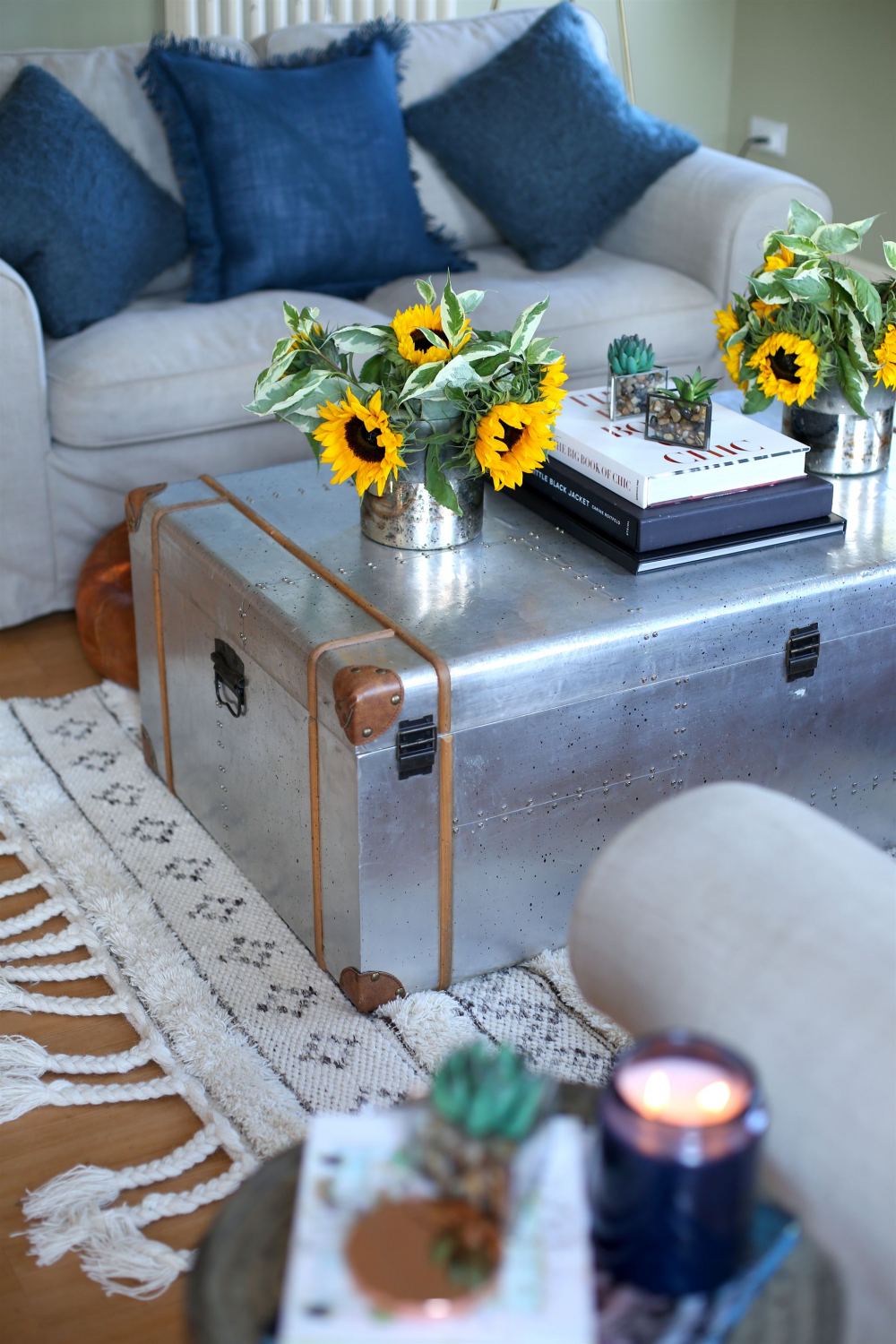 Talking of the side tables, these are also new from Homesense. They have a solid white marble base with a metal tabletop. I was unsure about these before I got them home, as I didn't know how they would look with everything set up, but I actually really like them and they are so useful, especially as I sometimes like to work from the sofa if I'm editing or writing. These were a little pricier than a lot of the other bits I went for (£89.99 each) but they are solid marble and really good quality I can tell they will last for years. I also bought a few new candles to put around the area for extra atmosphere, and re-located some other books and bits and pieces from elsewhere in the house to help the area feel more cosy.
I'm so happy with the finished look, I think it's made the space look so much more polished, yet cosy at the same time… a great space to work or relax. Would love to know what you think?
You can find your local Homesense store by checking the store locator on their website here.