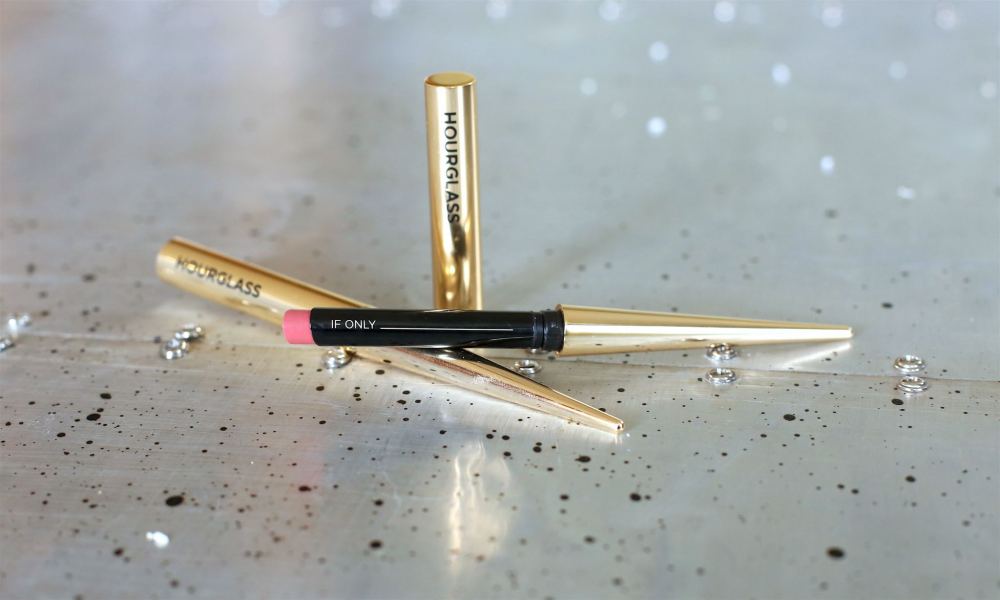 After the much-hyped and anticipated drop of their GIRL Lip Stylos earlier this year, one of my go-to luxe makeup brands Hourglass, have launched another whole new range of lipsticks. The 'Confession' lipsticks are ultra slim, satin-finish, long-lasting creamy lipsticks that are unusually housed in a sleek golden case. All of the 30 shades are sold separately as refills, and you can switch them in and out of the gold case, or just have one, use it up and then buy a refill.
They really are super-slim, which means you get a very precise application on the lips. At the same time, this also means that you don't get a huge amount of product for your money… They retail for £28 for the case and one lipstick shade, then £18 for a refill. You get 0.9g of actual product (not much when compared to a normal lipstick bullet… a MAC lipstick for example, is 3g). The formulation is really rather lovely though… although they are a little drier than my usual choice in lipstick, this means that the staying power (especially considering they aren't a full matte finish) is exceptional, and the pigmentation is very good across the board – all of the shades have strong, even pigmentation.
I think these will appeal to those of you who have a penchant for fabulous packaging. They would without a doubt make a beautiful addition to any makeup bag or handbag, and although they are pretty pricey they are nowhere near as expensive as the Louboutin lipsticks, which I would say are somewhat comparible in terms of the unusual, gold packaging (perhaps not quite as luxe as the Louboutin ones, but they kind of have the same vibe!)
The shade choice is really impressive, there's definitely a colour for everyone! They are available now from SpaceNK, Liberty and Net a Porter.
Left to Right: My Favourite, You Can Find Me, I've Kissed, No One Knows, I Woke Up, I'm Addicted, If Only, I Want, I've Never, I'll Never Stop, I Lust For, One Day, The First Time, The First Time
Left to Right: I Hide My, If I Could, When I'm Alone, When I'm With You, One Time, At Night, I Can't Live With, Secretly, My Icon Is, I Crave, I've Been, I Desire, I Live For, I Can't Wait, I Believe
SHOP THE POST