*Advertisement 
In today's post, I wanted to combine a couple of things… firstly a little look into my trip to Cape Town last month, which I'm so excited to share with you because it's really such a special place, and somewhere I have always wanted to visit. Secondly, an exciting announcement… This year I'm collaborating with Light & Free to be part of their Spotify campaign for 2017. I'm going to be sharing some amazing experiences with you all on here and on my vlog channel, but also sharing some of my favourite music too. If you want to learn more about the campaign, check out my playlists, along with some of the other influencer's playlists who are involved, and get the chance to win tickets to some exclusive live sessions with surprise artists, this time it's The Kooks. You can head over to the Light & Free hub here. I'm really excited to be part of it because music has always been such a massive part of my life, and has a huge impact when it comes to making memories (and then later triggering them!) So when it comes to holidays and trips, music is one of the most important things in my book. I created a playlist of all the music we played on our trip, which you can find on the hub. I discovered some great new music through one of my South African friends whilst I was out there too, so if you fancy taking a look – I would definitely recommend it! 🙂
Mike and I came out to South Africa with my parents and a big group of family friends to celebrate a friend's wedding in Stellenbosch and decided to make a trip of it. We decided to stay in Cape Town for four days ahead of the wedding, followed by a weekend in the winelands and a few days on Safari at the end (which I'm not covering in this post, but may do in a later post – let me know if that's something you would like to see?)
For the first four days we were staying in an incredible apartment in the Camp's Bay area right on the coast and majorly lucked out as it was honestly the most beautiful apartment, in an amazing location and had a gorgeous terrace with a pool overlooking the beach, where we had breakfast everyday and went for runs each morning along the coastal road (the first training sessions for RunDeForce in July – Eeek!) Absolutely dreamy… We initially found it really hard to find accommodation in Camp's Bay as everything seemed to get booked up really far in advance. After looking around we found this place through The Luxury Travel Book – If you're planning a holiday any time soon, I'd definitely recommend taking a look as it worked out cheaper than staying in the nicer hotels in the area, was definitely much nicer and undoubtedly more private!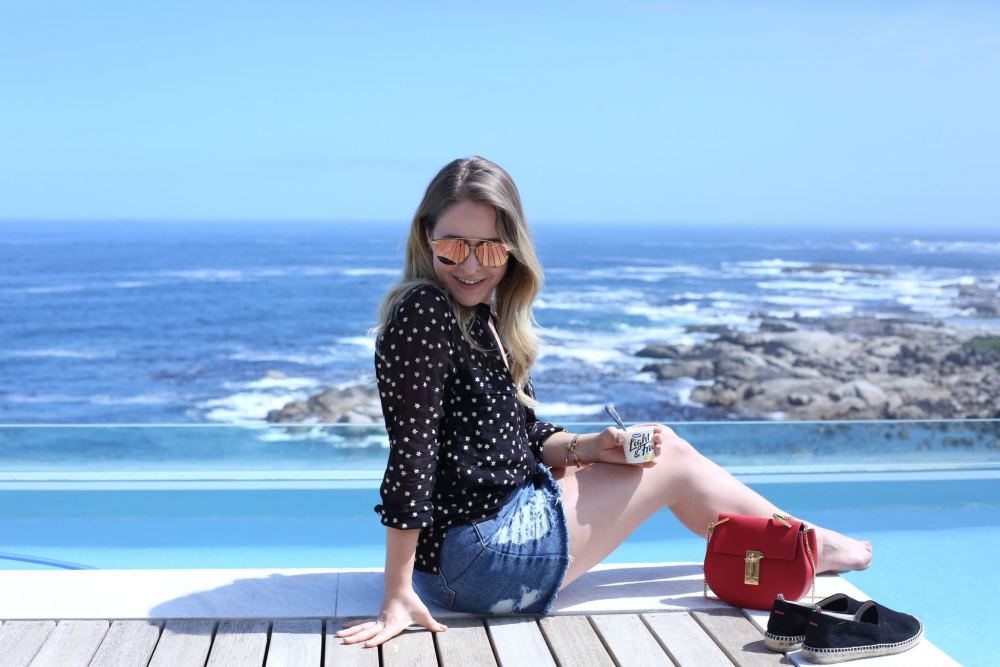 We threw ourselves in at the deep end on the first day by going skydiving! Something I've always wanted to do, but had never really had the chance or reason to… It was seriously an incredible experience, although I don't think I'll do it again… Definitely one ticked off the bucket list, but I won't be a regular! Mike loved it though which was awesome to see as he's usually terrified of flying, I can't quite believe he managed to throw himself out of a plane! The views from the tiny plane were awesome, it was definitely a great way to see another side of the city. 
We went up to the top of Table Mountain for sunset on the same day which was unbelievably beautiful, although incredibly windy and pretty packed with other tourists, which isn't always my favourite, but it's well worth it for the view. I really wanted to do a sunrise hike up Lion's Head the following day but we decided against it due to high winds (probably for the best, I hear it's pretty steep up there and definitely wouldn't want to risk being blown away by anything other than the views!) We also took a little day trip over to Boulders Bay to see the famous South African penguins one day which was awesome, It was about a 45 minute drive but well worth it just for the views on the drive to be honest – so incredibly beautiful! We didn't have the chance to visit Cape Point, but it's definitely on the list for our next visit. 
Of course, we couldn't visit Cape Town without sampling some of the famous wine… we ended up wine tasting twice while we were there, once at a beautiful place called Constantia Glen as part of the wedding celebrations (the view was out of this world) and another at Waterford Wine Estate out near Stellenbosch which I would really recommend for the leafy shaded courtyard and friendliest staff we encountered (although they don't do food – FYI!). The perfect place to spend a sunny afternoon with friends, and the wine was incredible. I managed to get some cute outfit shots outside the front entrance too… happy days. My shirt and skirt are both recent purchases from Topshop, which I picked up right before we left. I paired them with my little red Chloe Drew bag and my favourite white lace espadrilles (Nope, they aren't the Valentino ones, but from River Island last summer – I actually bought two pairs I loved them so much, but these are getting pretty tired now so I've got everything crossed they bring out a similar style again this year!)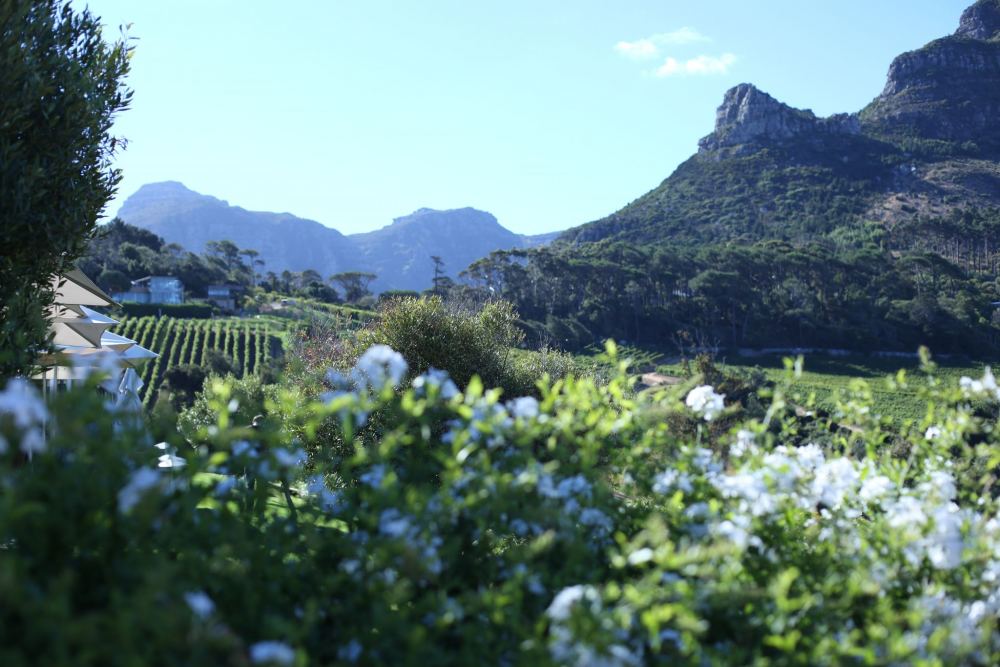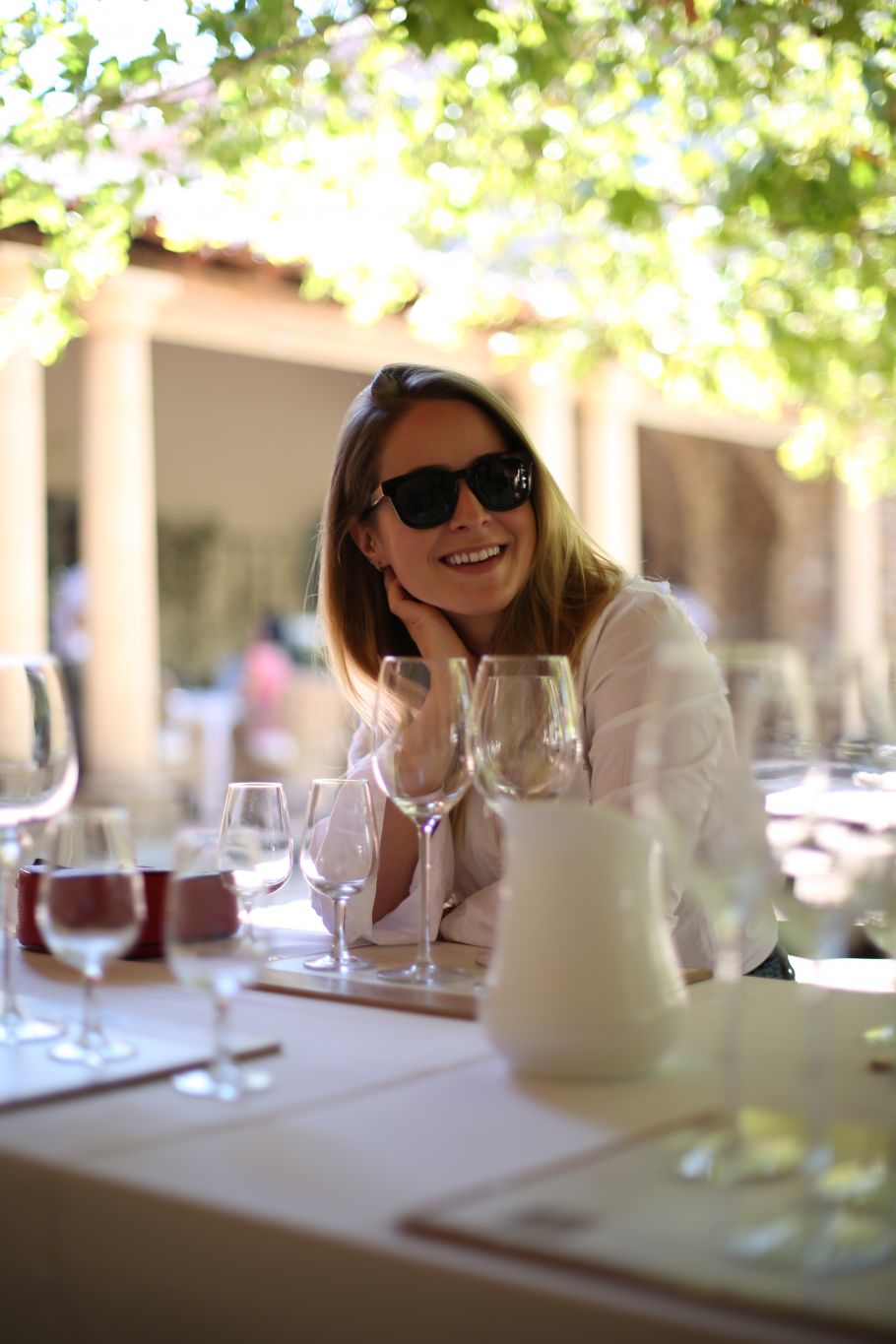 On our way out to the wedding, we all stopped at another incredible farm called Babylonstoren and had lunch at their farm-to-table restaurant, Babel. This was without a doubt the best food we ate on our trip (and the competition was high!) If you make a trip out to Stellenbosch, you must visit this place. You can also wander around the farm after lunch and see the fruit and veg growing, as well as their resident family of ducks that been looked after by the same keeper for over 50 years. They are actually used as natural pest control as they eat all the creepy crawlies from the vegetable patches! I took a few outfit shots here too, which turned out really nicely I think (what do you reckon?) I cracked out my new starry shirt from All Saints for the first time, which I think is very quickly going to become a wardrobe staple for me – I'm obsessed with it!
The next couple of days were taken up by wedding festivities, and to be honest we were all having so much fun at the wedding, we didn't really take many photos, but there are a couple of me and mike that I've posted below so you can see – I've known the bride and her family for almost 20 years so it was a pretty special day. It was a really emotional ceremony and the party afterwards was so much fun – without a doubt one of the best weddings I've ever been to regardless of the beautiful setting… but combined with the sunshine and glorious mountain views over the vineyard, it was just perfect. 
There was a big group braai the next day at another local wine farm and I took a few more pictures there so I'll share some of those below too. For this I wore my favourite summer dress which I've had for a few years now. It's from Amanda Uprichard and I remember worrying at the time about how expensive it was, but I've actually gotten so much wear out of it, it was definitely well worth it! The neon pink silk is so comfortable to wear, it's cut really well and never fails to make you looked tanned even when you aren't (or in my case, when you've done a bit of a rush fake tan job the day before!) 
For our final day, we took a day trip to Franschoek which came highly recommended by so many people we spoke to. Again, it was so pretty and well worth a visit, if a little touristy. We had a lovely final lunch in the sunshine there before some of our friends flew home and we flew off for safari the next day. It was so lovely looking back on the whole trip… we packed a lot into our week here, although I definitely feel like we didn't see it all, so know we'll be back before long. I loved every minute! 
*This post is part of a collaboration with Light & Free for 2017. The trip was my personal holiday and paid for entirely by me.
Light* & Free: 0% Fat 0% added sugar** – *Over 30% fewer calories than most full fat fruit yogurts **Contains naturally occurring sugars