Beauty Pie is one of those dividing brands. There was a lot of hype around it when it launched at the end of last year, yet the 'cost-price', membership-only concept is a tricky one when it comes to the longevity of the brand in my opinion. Those paying monthly for membership need to be satiated by constant product launches and continual innovation… A real challenge for the brand. I've been watching with interest since the launch to see how they would approach this. I have to say, so far they are definitely delivering… moving in to skincare recently and providing a constant stream of new products on the beauty-front too.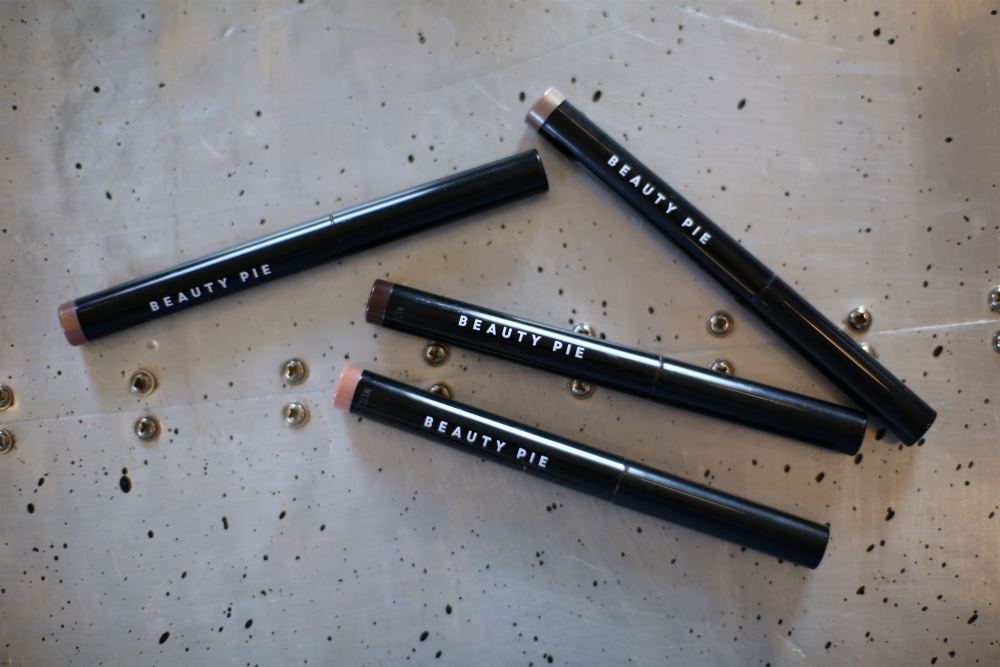 Their latest launch in the form of the 'Wondercolour' cream eyeshadow sticks has definitely impressed me the most – these creamy, easily bendable shadows are on a par with some of the most expensive on the market (Bobbi Brown, Laura Mercier and By Terry more specifically!) All of the 10 shades are gorgeous too – there definitely aren't any duds. Like I said before… very impressed. My favourites are Little Star (the most beautiful metallic rose gold), Chocco (a perfect deep matte brown), Pink Velvet (a matte dusky rose) and Goldie (deep taupe-gold metallic). They are all gorgeously creamy, blend beautifully and offer brilliant staying power. I really can't fault them and have been reaching for them continually over the past month. Their 'RRP' of £20 (which you can still pay if you're not a member, if you really want to) is well worth it in comparison, but the members price of £2.22 is really tempting…
Left to right: Little Star, Chocco, Pink Velvet, Goldie
I personally think it's worth paying for the 3 month membership to buy some of the gems they have on offer (their foundation being another of these – simply gorgeous!) then perhaps cancelling. The one issue I can't see the brand being able to easily circumvent is the fact that their core audience are beauty addicts, and real beauty addicts simply won't be satiated by shopping from one brand…
Brilliant in theory… certainly brilliant in reality – but I'm still unsure of the longevity of the concept in general, or if I would prefer their products to just be available as a high end offering…
You can see my full review video from when the brand launched here:
What do you guys think of Beauty Pie? Would love to know if any of you have tried the products and what you think of the concept in general? Would you, or do you, pay for a monthly membership to a brand like this?!