*Sponsored Post
As many of you may already know, home decor is up there with beauty and fashion as one of my passions in life. If you follow my YouTube channel or Instagram you've probably seen some of my interiors content over the years from renovating and redecorating our first home over the past few years, a process which I absolutely loved, and definitely learnt a lot from. After a lengthy renovation process, we actually sold our first home and moved into a new house at the end of 2016. Although not in need of such extensive redecoration, it's still an old house, so the past six months have been full of planning and budgeting to both modernise and redecorate certain spaces.  Mike & I like to do things slowly, live in a space before changing it and therefore have enough time to work out what we really want to change. We also love working on the house in the spring and summer time (for obvious reasons, it's much easier and less messy if it's not raining when you've got workmen coming in and out!) but also because it's lovely to have a project finished in the summer when everything's looking it's best and we've always got people coming to stay etc! Therefore with our new home, we decided that our first project would be our main guest room. A room that is actually my favourite room in the upstairs of the house due to the beautiful windows, natural light and unusual round shape… but also one of the rooms that needed the least work.
Part-way through the planning process we were also approached by 
Christy
 to collaborate with them for the furnishing process, which I was super excited about, as they are without a doubt one of my favourite bath and bedding brands. The quality is unrivaled, and if there's something I really believe in investing in for your bed, it's good quality bedding, as it lasts. They also have an amazing range of both traditional and modern designs, and everything in between, which I adore as sometimes I find decorating an older quite tricky if you like a more modern look, but still want everything to 'go'. For this particular room, I was thrilled to be working with 
Christy
, as the theme for the room is black, white and grey, and I had had my eye on their
Mode Midnight collection
 of black-edged bed linen for a while!
So what did we do?
Well firstly, installed ceiling lights. Yep, you read that right! Our new home is old, and therefore a number of the rooms are lacking ceiling lights entirely, relying on the old-school 5-Amp system whereby the light switch turns on your bedside table lamps! Great for a bit of ambient lighting in the evening… less so for actually being able to see anything! So we decided to keep the 5-Amp system, but also pop in some spotlights in the ceiling and upgrade the switches and plugs to smart brushed-brass ones.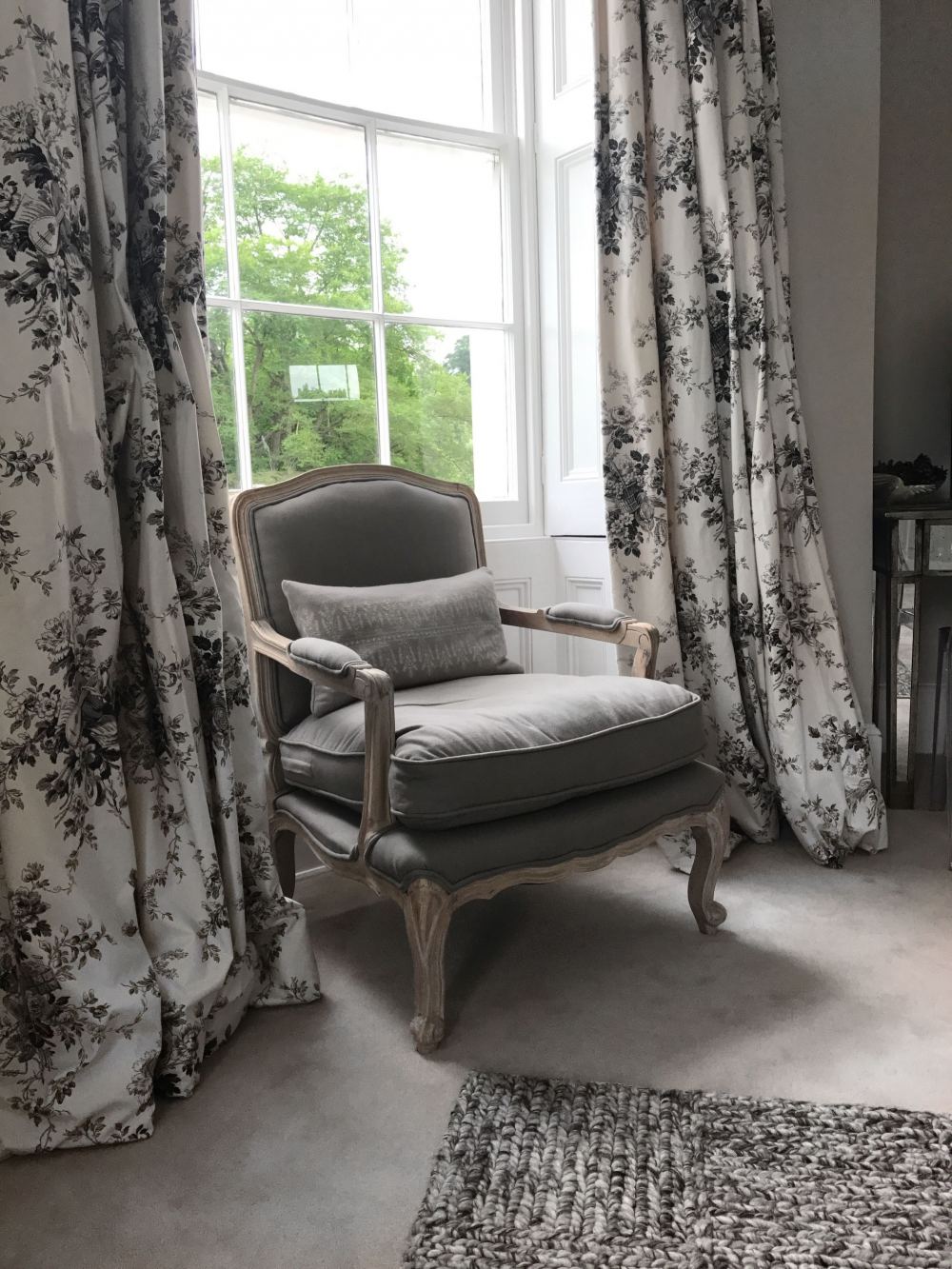 We decided when we moved house that our old bedroom furniture would fit best in this room, so the redecorating process was very much lead by the furniture, which is from Made.com (bed and sofa), Swoon Editions (armchair), Oka (dressing table – which on a side note, I wouldn't recommend as it's terrible quality for the high price tag!) and Homesense (rug and chest of drawers).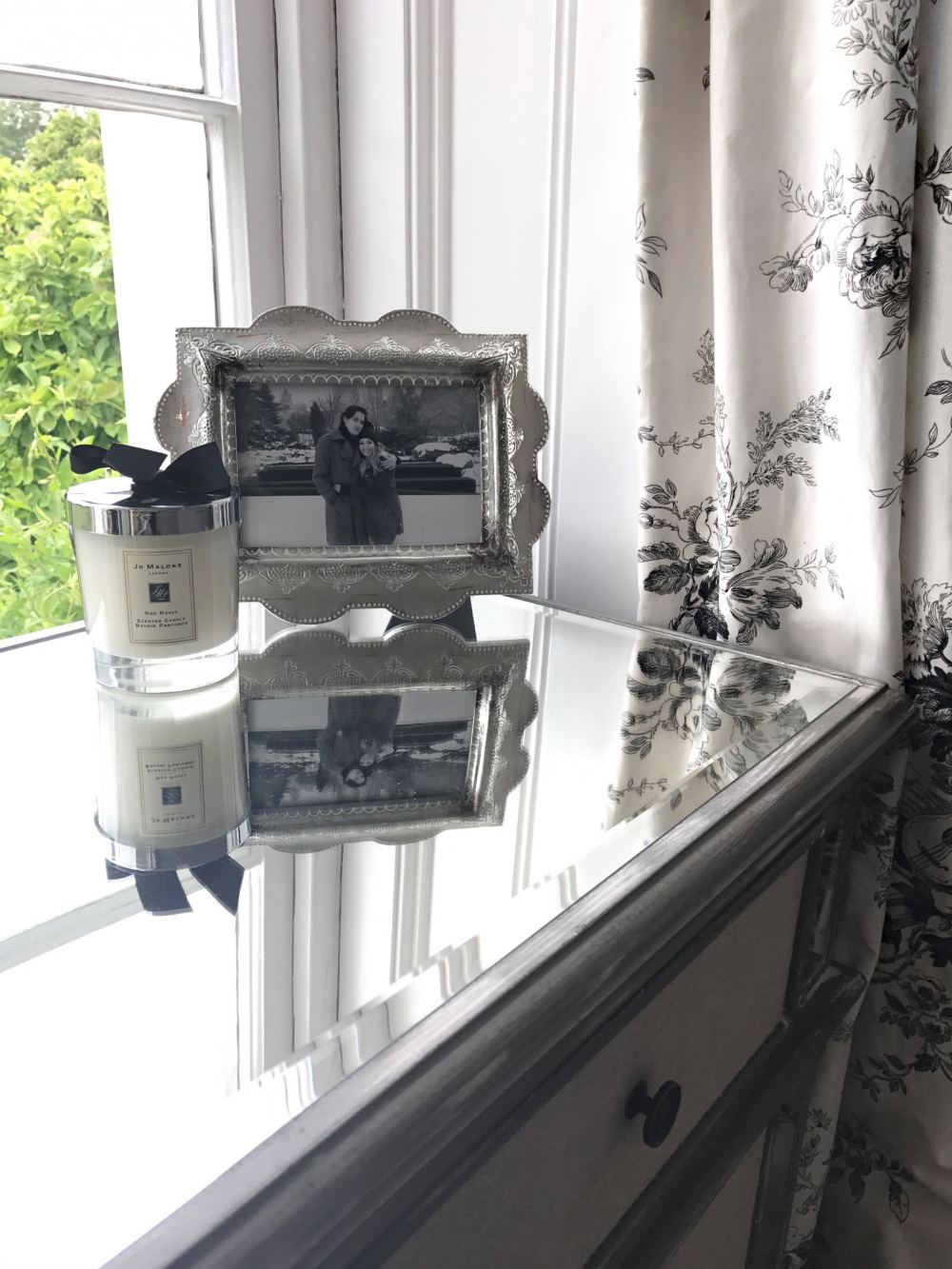 We stripped off the faded, floral wallpaper and replaced it with a fresh coat of Skimming Stone from Farrow & Ball (one of my favourite colours as it looks stoney in some lights, and very grey in others, so it goes well with both cool greys and warmer taupe-tones). We also took the rather big decision of changing all the woodwork in the room from old-fashion cream to a fresh white, which considering the four large windows are original, not in great condition, and all have shutters… turned out to be a huge undertaking! Although not a decision I regret as I think it looks to much cleaner, and as it's our 'forever home', it's worth getting it right the first time, and not having to do it again!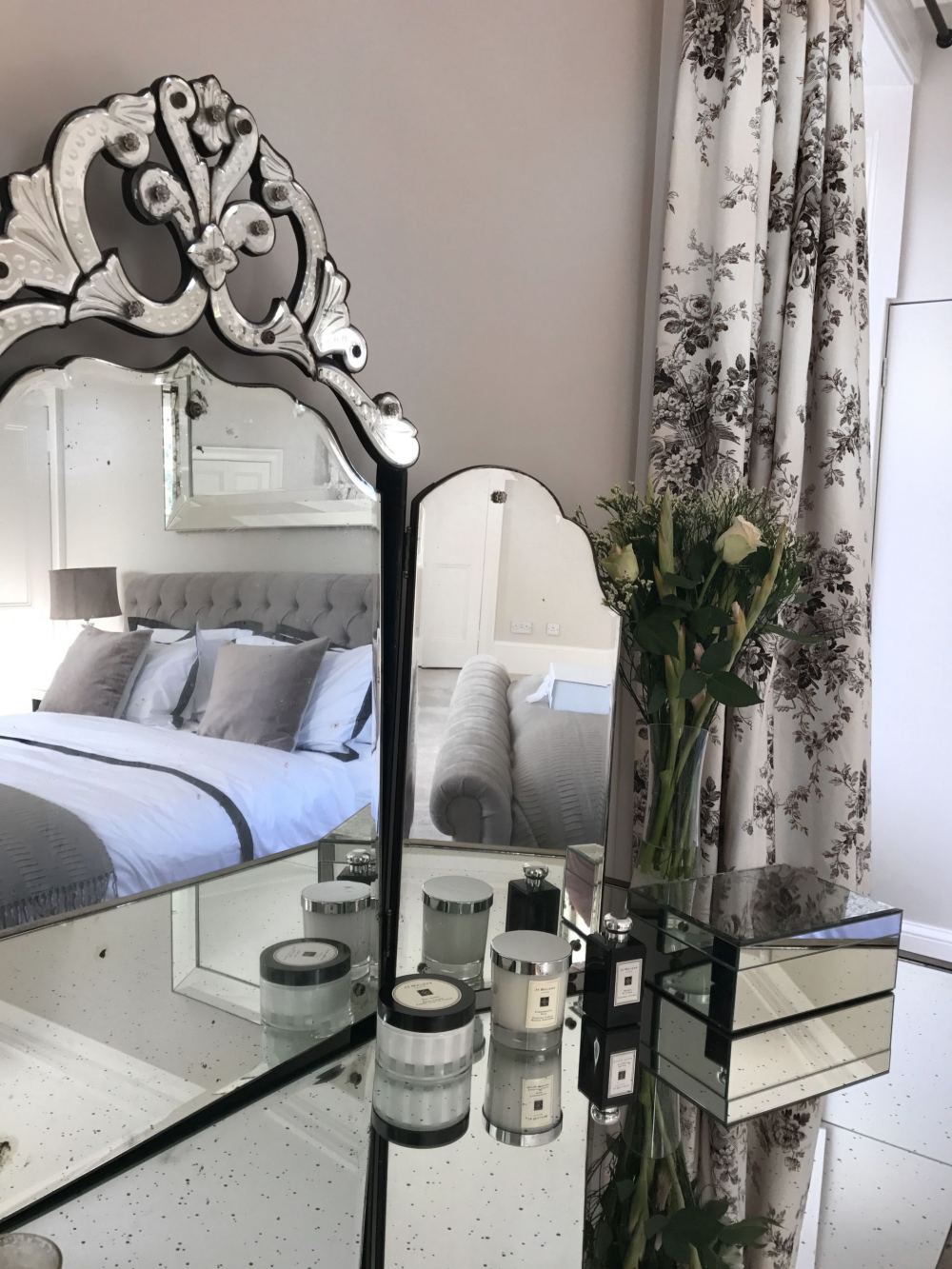 We also replaced the old stained, beige carpet with a nice new one in a neutral taupe shade, which was actually the one element I was unsure about when it was first installed but now all the furniture is back in, I think it works really well. We decided to keep the existing curtains in the room. Although very bold, I love these and adore the black and white theme that runs throughout the room, and in the en-suite bathroom too.
We decided to keep the black and white theme running with the gorgeous sheets we chose from 
Christy
, and again continued into the bathroom in the form of all black towels (again from 
Christy
, and surprisingly very hard to find good quality black bath towels, mats, face cloths, bathrobes etc, but the 
Christy
 ones are gorgeous) which I think really finish off the room. There's actually quite a large selection of black towels on the 
Christy
 website, but the ones I chose are the Prism design. Although quite simple, they are super thick and luxurious, with a really simple but lovely soft-textured stripe on the edging. (
Link here
)
I'm so happy with the finished look, it's exactly how I had imagined it in my mind and I love having guests to stay in it now! We still have a little way to go with the bathroom, as there is currently only a bath, not a shower, and a carpet on the floor (eek!) but that's our next project, planned to be tackled later in the year!
Would love to know what you guys think?!
*This post is sponsored by 

Christy

. All thoughts and opinions are my own.