*This post contains gifted product and affiliate links, but is not a paid-for promotion.*
As many of you who watch my YouTube videos will know by now, Hourglass is one of my absolute favourite brands. They absolutely smash it almost every time they launch something new, so I was understandably excited to get my hands on their new Vanish Liquid Foundation. It's a massive launch for the brand, and ads were popping up everywhere I seemed to look in January. I LOVE the original Vanish foundation stick, so couldn't wait to see how they had translated this creamy, full coverage texture into a liquid (which is usually my favourite texture when it comes to foundation). It promises to deliver full coverage with a natural finish that is waterproof, sweatproof and transfer-proof with no need for a primer… using just HALF a pump of product?! Sounds too good to be true, right? I've been putting it to the test this month…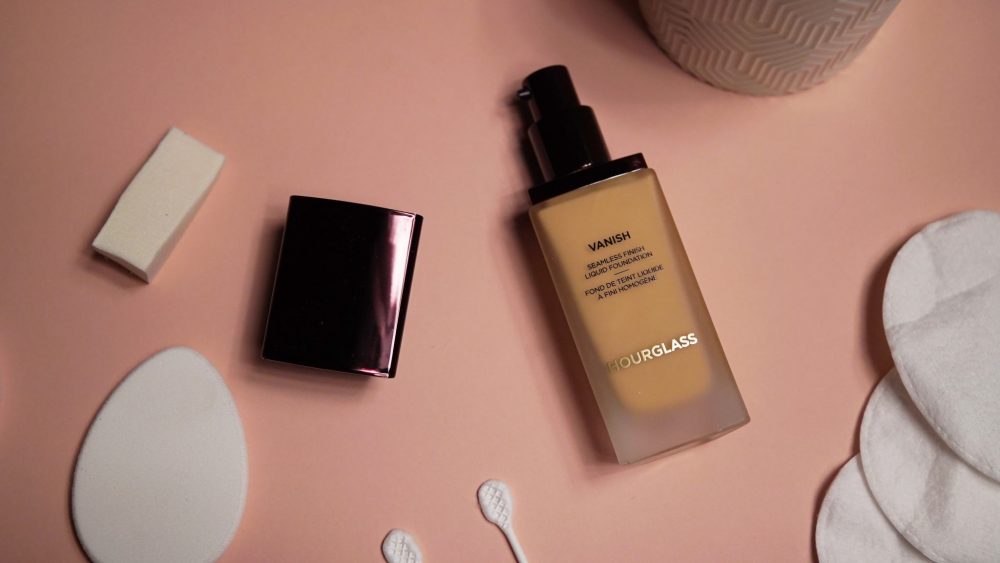 As per usual with anything Hourglass, the packaging is slick. In a heavy, frosted glass bottle in a sleek geometric shape, it feels beautiful in your hands. The bottle itself holds less than your average foundation, just 25ml, but promising to cover a full face with half a pump… the baby will last you much longer than normal even with a little less product on board. The consistency isn't as thick as I was expecting considering the high coverage element of the product, and it applies and blends really nicely with a damp beauty blender (Hourglass recommend using their vanish foundation brush, but I always find that a beauty blender works best… I've yet to find a foundation that doesn't look better applied this way!) The first thing you'll notice with this formula is that a littler goes a SERIOUSLY long way. When they say full coverage, they mean it! The finish for me is completely flawless and I love the natural, demo-matte look it gives my skin too. It's perhaps more coverage than I would go for day-to-day, but for times when you need some serious coverage, or for evenings and special occasions… the finish is bang on for me. The shade range is impressive with 32 shades in total (I wear Shell).
The one thing I would say is if you have dry skin… this foundation probably isn't for you. Definitely stick with the original stick version, which is much more creamy and forgiving on any dry patches. It says this foundation is made for normal to combination and oily skins, but I think those with oily skin will love it the most. The one thing that really impressed me with this product however, is the staying power. This stuff doesn't budge. All day. I was really impressed. 
The one hang up I do have is the price. At £51, this foundation is eye-wateringly expensive. Especially when you compare it to other high end offerings rom Chanel, Dior, Lancome etc, which consistently lie in the £30-40 region. although it's not surprising considering the pricing of the rest of the Hourglass range. Having said that, the stick version is still only ('only' haha) £42, so there is a notable difference there and if I'm honest, I do still think I prefer the stick version. So overall? A lovely, but overpriced product. I think if you're a fan of the stick already and intrigued to try this, it might not be worth the extra investment.
The Vanish liquid foundation is out now, priced at £51 for 25ml.